We're committed to cultivating our talent and helping everyone achieve their full potential through learning and development programs, training courses, coaching and feedback. We provide competitive benefits and services designed to support the diverse needs of our teammates and their families.
Total Rewards
At PatientPoint, we believe that our teammates are our most valuable asset. It's a key reason why we offer teammates and their families a robust, modern, affordable benefits package. We're proud to invest in our teammates' good health and well-being.

+

Generous Flex Time Off (20 Paid Days Annually)

Eligible teammates have four (4) weeks of flexible time off available, frontloaded on January 1 of each year.

5 Paid Yay! Days Off to Celebrate Anything You Choose

Whether celebrating a recent engagement, dropping a child off at college, becoming a grandparent or simply wanting a day off to enjoy a hobby, all teammates have five (5) YAY! Days each year to schedule time outside the office.

+

7 Paid Sick Days Annually

No one should have to choose between their health and take-home pay. All teammates have seven (7) dedicated paid sick leave days, unless otherwise required by state law.

+

11 Paid Holidays Each Year

PatientPoint offers eleven (11) paid holidays. nine (9) of these are standard company holidays, allowing teammates the flexibility to choose an additional two (2).

+

Floating Paid Holidays

Teammates have the flexibility to choose two (2) floating holidays in addition to the nine (9) standard paid holidays we provide.

+

Summer Hours

PatientPoint provides this benefit so teammates can spend a little less time in the office during the summer months.

+

Health Insurance Benefits

PatientPoint offers two Cigna plan options and provides cost sharing for each. Teammates have the option of selecting either a PPO or High Deductible Health Plan.

+

Dental Benefits

PatientPoint offers two Delta Dental PPO plans, giving those with bigger care needs such as orthodontia the option to elect additional coverage.

+

Vision Benefits

We're dedicated to helping teammates see clearly — and that's why we've partnered with EyeMed, a network that gives a lot of choices and flexibility. Teammates can choose from thousands of independent and retail providers to find the one that best fits their needs and schedule.

+

Prescription Coverage

Prescription drug coverage for generic, preferred and specialty drugs is included with both of our offered medical plans.

+

Mental Health Benefits

Our benefits include access to Confide for all teammates, a mental health platform with opportunities to receive confidential, 1:1 coaching and therapy.

+

Flexible Spending Account (FSA)

Teammates have available to them pre-tax savings and spend accounts for healthcare costs (FSA and HSA) or dependent care costs (DCFSA).

+

Company HSA Contributions

Teammates that enroll in our High Deductible Health Plan will also receive contributions from PatientPoint.

+

Wellness Programs

In addition to Confide, PatientPoint offers wellness programs through Cigna.

+

Onsite Gym (Chicago Office)

Teammates in the Chicago office have access to an onsite fitness center.

+

Hybrid, Remote & Field Opportunities

PatientPoint offers teammates a variety of flexible work arrangements, depending on the role.

+

Generous Parental Leave

Whether it's the birth of a child or the adoption of one, teammates have four (4) to twelve (12) weeks of paid leave to bond with their newest family member.

+

Fertility Reimbursement

PatientPoint is proud to partner with HealthEquity to offer a health reimbursement account to support our teammates' growing families. Teammates may be reimbursed for 100% of the cost of qualifying procedures, up to a $10,000 lifetime max.

+

Family Medical Leave

PatientPoint supports state and federal leave programs for teammates needing to take a medical leave of absence.

+

Company-Sponsored Family Events

Teammates enjoy various family-focused events throughout the year.

+

Survivor Benefits

PatientPoint provides survivor benefits at two times the teammates' annual salary, up to $500,000, to ensure families get the support they need should the unthinkable happen.

+

Pet Insurance

Pets are a part of your family too. Patient Point offers Pet Insurance for the health and wellness of your cat or dog.

+
401(k)

Teammates are eligible for 401(k) plan participation upon date of hire.

+

3% Safe Harbor Company Contribution

PatientPoint makes a 3% safe harbor contribution, up to $3,150 annually, to all employee plans regardless of whether an employee chooses to contribute.

+

Tax-Advantaged Accounts (FSA, HSA, DCFSA)

Teammates have available to them pre-tax savings and spending accounts for healthcare costs (FSA and HSA) or dependent care costs (DCFSA). For those enrolled in the HDHP, PatientPoint contributes $625 annually to health savings accounts for those enrolled at the individual level, and $1,250 for family level.

+

Company-Paid Disability Insurance

PatientPoint provides all teammates with STD and LTD coverage at no cost. Should the unforeseeable happen requiring an extended leave from work, income protection is there.

+

Pre-Tax Commuter Benefits

Teammates in the greater New York and greater Chicago area, as well as those living in other commuter-friendly areas with mass transit options, can defer pre-tax money for transit and parking funds to be used for eligible transportation to the office.

+

Voluntary Life Insurance

Teammates can secure additional financial protection from expenses associated with accidents, critical illness and hospitalization for themselves and their families. Additional voluntary life insurance is also available, covering employees and their spouses and children.

+

Employee Referral Program

PatientPoint rewards teammates who refer candidates that become successful new hires.

+

Financial Wellness

PatientPoint offers a bundle of Identity Theft Protection, Legal Access, and a Tax Hotline.

+
LEARN MORE ABOUT OUR BENEFITS
Learning and Development
We seek out smart, curious people who are willing to challenge themselves personally and professionally throughout their career. That's why we offer many opportunities to grow and advance. Your full potential is within reach because when you play a key role in our success, you'll enhance your own success.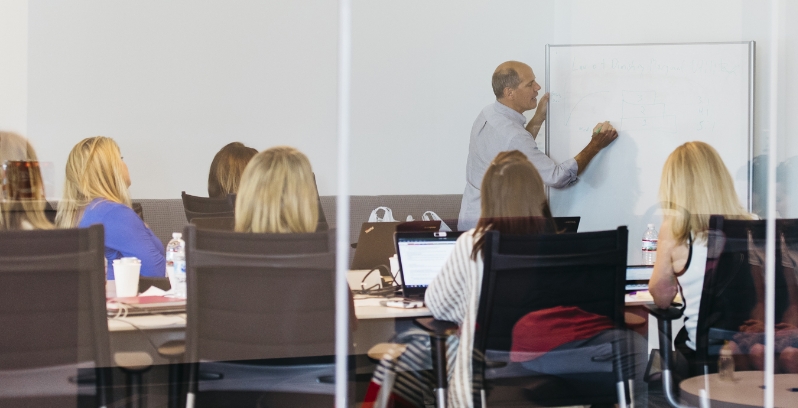 We advocate for teamwork, collaboration and mentorship across the organization.
We offer internal training programs that set the direction for new teammates to grow their careers.
We provide leadership development and new manager training programs to foster learning at all career levels.
We support your professional development with 24/7 access to over 17,000 LinkedIn Learning courses.
We encourage you to explore opportunities within PatientPoint through internal transfers into a new position or onto a different team.
We help new hires navigate their roles with 90-day onboarding that includes job shadowing experiences and a knowledge-sharing buddy system.